Master design in brief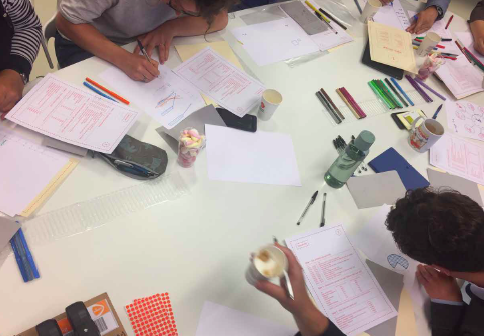 Based upon their own design question, students of the Master Design programme learn to apply a designerly and in-depth approach to design research. They constantly reflect on what they discover and convey their work and expertise through storytelling. They combine and integrate this part-time master with their design practice, renew their own role and thus that of creative professionals in society and organizations. They contribute to social, environmental and technological change. The combination of participatory work and authorship is central.
Within current design practices we choose a specific position, in which creative forms of design research and working with participants are crucial. The methods that the study programme provides for conducting design and in-depth participatory research support this.
We see design as an engine for (behavioral) changes and transitions in the context in which our students place their own design question. They research and answer this question using the methodology they develop during the study.
Working together with participants, who bring their own questions, experiences, ideas or knowledge, is the starting point. With them, our students look for opportunities, reflect on discoveries and try them out. In doing so, they remain the author of their process. Their designs, within the research process or in the final product, materialize and visualize design choices in an idiosyncratic way. During the course, they also find their own voice in the convincing and attractive storytelling with which they propagate their design research.
When they graduate, our students establish an original vision that combines personal curiosity, participatory design research and creative design power. In doing so, they take their place as experts in a new, meaningful practice and contribute practice-based and transdisciplinary to innovations in social and design practices.
They thought along about our course profile 2020
Students/Alumni
Pierke Hulshof (Onderzoeksatelier Pierke Hulshof), Linda Wassenaar (Coördinator Design Audit Studio Algemene Rekenkamer) and Michelle Baggerman (Bureau Baggerman)

Colleagues from our professional field
Stephen Wensveen (Professor Constructive Design Research in Smart Products, Services and Systems TU Eindhoven), Annemartine van Kesteren (Curator Contemporary Design Museum Boijmans-Van Beuningen), Anne Miltenburg (Brand Developer for social impact)

WdKA colleagues
Anneke Seelen (senior policy advisor Quality Assurance) en Jeroen Chabot (director WdKA/PZI)

MD-Team
Sietske Klooster, Jop Japenga, Jan Belon, Harma Staal, Hanneke Briër
The Master Design is part of the Willem de Kooning Academy / Piet Zwart Institute