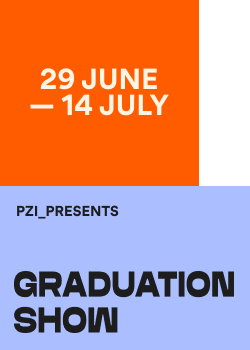 Grad Show Thursday 6 juli 2023
4e etage / 4th floor – Wijnhaven 61 – Rotterdam
Op donderdag 6 juli presenteren onze afgestudeerden tijdens de Grad Show van WdKA/PZI hun design research in een lezingenreeks.
Zeven ontwerpers deden design research naar relevante maatschappelijke, duurzame of technische vraagstukken. Ze zochten naar antwoorden bij vragen achter zelfgedefinieerde ontwerpdoelen, en combineerden een ontwerpende en makende aanpak, bronnenonderzoek, storytelling en positionering.
Anne Karin ten Bosch vond een manier om de brede waarden van stadsnatuur in Rotterdam-Noordwest zichtbaar te maken door deze in het fictieve Stadspark West met elkaar te verbinden, Baukje Rienks deed slow research door te wandelen & borduren met anderen in haar buurt, Karla de Witte zag zelfontworpen cadeaus als methode om mensen voor langere tijd met elkaar te verbinden, Maaike de Laat zocht naar manieren om burgers te laten participeren in de ontwikkeling van de digitale overheid, Milou Voorwinden werkte samen met weverijen over de hele wereld om duurzaamheid te vinden in 3D-technologieën, Nadine Bemelmans doorbrak met zorgprofessionals het taboe van praten over een burn out en Ramon Menting liet zijn studenten hun stress visualiseren om deze op te lossen.
On Thursday 6 July, our graduates will present their design research in a series of lectures during the Grad Show of WdKA/PZI.
Seven designers did design research on topics with relevance in societal, sustainable or technical issues. Their searched for answers to self-defined design goals, and combines methods of designing and making, gaining in-depth knowledge, storytelling and positioning.
Anne Karin ten Bosch found a way to make the broad values of urban nature in Rotterdam-Northwest visible by connecting them in the fictitious Stadspark West, Baukje Rienks did slow research by walking & embroidery with others in her neighbourhood, Karla de Witte understood self-designed gifts as method to bind people over time, Maaike de Laat went for ways to get citizens to participate of developing the digital government, Milou Voorwinden worked with weaving factories all over the world to find sustainability in 3D technologies, Nadine Bemelmans got healthcare professionals to overcome the taboo of talking about being burned out and Ramon Menting got his students to visualize their stress to solve it.
---
Master Design Grad Show Lectures
12.30 – 13.00 pm > Nadine Bemelmans
13.15 – 13.45 pm > Anne Karin ten Bosch
14.00 – 14.30 pm > Ramon Menting
14.45 – 15.15 pm > Milou Voorwinden
15.30 – 16.00 pm > Baukje Rienks
16.15 – 16.45 pm > Maaike de Laat
>note: most lectures will be in Dutch